Scott County Sheriff's Deputy Takes Out Critter
05/09/2023
Scott County Sheriff's Deputy Takes Out Critter...Keeping Scott County Citizens Protected and Served!
Scott County-On 5-8-2023 at approximately 12:00am in the morning, Lieutenant Charlie Morgan and Deputy Donovan McCutcheon of the Scott County Sheriff's Office responded to a home in Scott County that was reportedly under critter attack! Upon arrival, Lieutenant Morgan was met by the homeowner, who advised a possum was trespassing inside her home, setting up camp under a dresser in a bedroom. Lieutenant Morgan, after consulting with Deputy McCutcheon, sprang into action, and after what he described as a "royal rumble", Lieutenant Morgan gained the upper hand, escorting the possum from the premises. The possum, Lieutenant Morgan, Deputy McCutcheon, and the homeowner, were not injured during this stressful call for service. The possum was instructed not to return to the premises and as of the date of this release, it has abided by that order.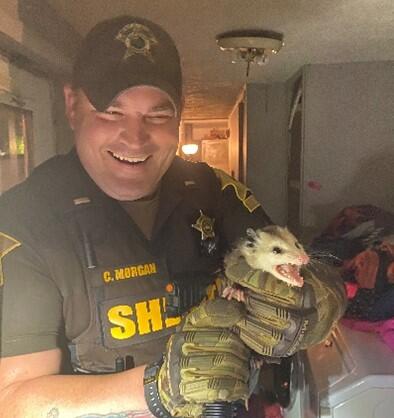 Lieutenant Charlie Morgan and "The Possum"
-30-
Dawson
Contact Sheriff Jerry Goodin at Scott County Sheriff's Office (812)752-8400.
All subjects (and possums) are innocent until proven guilty in a court of law.