Scott County Sheriff's Deputy Arrest Drug Dealer
05/08/2023
Scott County Sheriff's Deputy Arrest Drug Dealer in Possession of Fentanyl and other Controlled Substances...Sheriff asks, "How Stupid can You be"!
Scott County-On 5-8-2023 at approximately 0400 in the morning, Scott County Sheriff's Deputy Donavan McCutcheon stopped a 2015 silver Nissan passenger car near the intersection of Church Street and Blunt Avenue in Austin for several traffic violations. The driver, identified as Joe Brooks, 45, Austin, Indiana was listed as a suspended driver when a check of his driver's license status was made. During the subsequent roadside investigation, Deputy McCutcheon discovered "pressed Fentanyl pills, Methamphetamine, Marijuana, and Paraphernalia" concealed inside the vehicle. Based on the number of drugs and the packaging material located in the vehicle, Deputy McCutcheon arrested Brooks for dealing and other violations involving the illegal possession of drugs and paraphernalia. Brooks was transported to the Scott County Jail without incident, where he remains in custody. First Sergeant Charlie Morgan of the Sheriff's Office and Officer Robert Gudgel of the Austin City Police Department assisted Deputy McCutcheon at the scene.
Sheriff Goodin stressed his astonishment at another drug dealer who apparently hasn't got the message... "if you are involved in drug dealing or the illegal possession of drugs, you better stay away from Scott County...We will find you...We will do our job...You will be arrested and jailed in the people's jail...PERIOD"!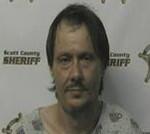 Joe Brooks
-30-
Dawson
Contact Sheriff Jerry Goodin at Scott County Sheriff's Office (812)752-8400. All subjects are innocent until proven guilty in a court of law.