Scott County Sheriff's Office Collaboration with other Agencies
03/16/2023
Scott County Sheriff's Office Collaboration with Other Agencies Results in the Arrest of Serious Felony Offenders...Teamwork makes the Dreamwork!
Scott County-On March 4th, Scott County Sheriff's Office First Sergeant Johnney Coomer located and arrested Hunter Anthony Coomer, 19, and Max Regan Caudill, 18, both of Seymour, Indiana after First Sergeant Coomer learned they were possibly involved in an armed robbery in Seymour in February of this year. First Sergeant Coomer, armed with arrest warrants issued by Jackson County Authorities, was patrolling through the City of Scottsburg when he observed Suspect(s) Coomer and Caudill at a convenience store, taking them both into custody without incident. First Sergeant Coomer transported Coomer and Caudill to the Scott County Jail and further impounded the vehicle they had driven to the convenience store, securing it at the Scott County Sheriff's Office on behalf of Jackson County Authorities. A search warrant was executed on 3-6-2023 by Jackson County Sheriff's Deputies, resulting in the recovery of a stolen handgun, suspected marijuana, and drug paraphernalia, all concealed inside the suspect vehicle. The handgun had been reported stolen previously to the Seymour Police Department, which was entered into the NCIC Database as stolen.
Coomer and Caudill have been extradited to Jackson County to face multiple charges there, where Coomer was wanted for Armed Robbery, Intimidation, Pointing a Firearm, and Theft charges. Caudill was wanted for Armed Robbery and Theft.
Assisting First Sergeant Coomer at the scene were Deputy Andy Brown and Reserve Deputy Steve Frey of the Scott County Sheriff's Office, and Scottsburg City Police Officers Trevis Burr and Channing Collins.
Sheriff Goodin stressed his support of local law enforcement collaboration... "together, we are an unstoppable force...coupled with the support of our citizens, we are making Scott County a safe and vibrant community to live and work".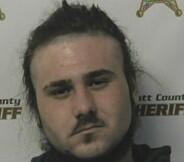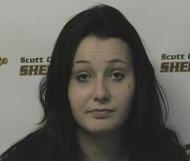 Hunter Anthony Coomer Max Regan Caudill
-30-
Dawson
Contact Sheriff Jerry Goodin at Scott County Sheriff's Office (812)752-8400.
All subjects are innocent until proven guilty in a court of law.