Scott County Sheriff's Office Detective Division Arrest
03/13/2023
Scott County Sheriff's Office Detective Division Arrest a Serious Violent Felon for Multiple Criminal Violations
Scott County- On March 6th, a residential search warrant was executed at a residence on Pearl Street in Austin that resulted in the arrest of Donald Christopher Huff, 39, of Austin, Indiana. The search warrant was issued upon the results of an investigation led by Lieutenant Detective Jacklyn Shofner, Commander of the Scott County Sheriff's Office Detective Division. Detective Shofner, who is also a member of the Internet Crimes Against Children (ICAC) Task Force, began investigating Huff when a "Cyber-Tip" was received by the ICAC Task Force. The investigation culminated in Detective Shofner applying for and receiving a search warrant for the residence in Austin where Huff was located and subsequently arrested. Huff was initially arrested for the following offenses: Possession of Methamphetamine, Possession of a Firearm by a Serious Violent Felon, and Possession of Paraphernalia. Huff was transported to the Scott County Jail and incarcerated without incident. Assisting Detective Shofner at the scene of the search warrant were the Scott County Sheriff's Office Emergency Response Team (ERT) and the Indiana State Police ICAC Team. Additional assistance was provided by the Indiana Department of Child Services, the Scott County Prosecutors Office, and the Scott County Probation Department.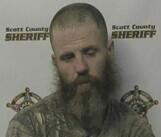 Donald Christopher Huff
NOTE: If you have information to provide that would assist the Scott County Sheriff's Office in making our community safer, please call 812-752-5550. You can remain anonymous...together, we are making a difference.
-30-
Dawson
Contact Sheriff Jerry Goodin at Scott County Sheriff's Office (812)752-8400.
All subjects are innocent until proven guilty in a court of law.