Scott County Sheriff's "Open Door Policy" Forges Friendship
03/03/2023
Scott County Sheriff's "Open Door Policy" Forges Friendships - Visitor to the Sheriff's Office is DETERMINED to be a Future Police Officer!
Scott County-On 2-28-2023, 7-year-old Blake Lush, a 1st grade student at Johnson Elementary School, paid a visit to the Scott County Sheriff's Office to speak direct to Sheriff Goodin about his dream of becoming a police officer. Blake not only spoke about his future goal of becoming a police officer, he also arrived in a full inspection-ready uniform ready to go to work now, prompting Sheriff Goodin to swear him in as an "honorary Scott County Sheriff's Deputy". After visiting with Blake, Sheriff Goodin presented Deputy Lush with a friendship bag and a gentleman's handshake...job well done, Deputy Blake Lush!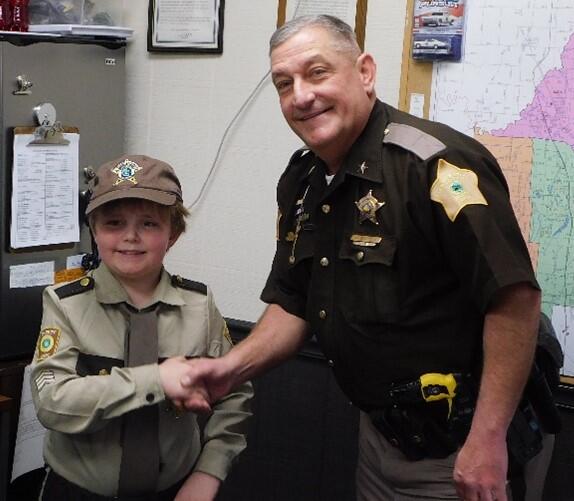 Honorary Deputy Blake Lush and Scott County Sheriff Jerry Goodin
-30-
Dawson
Contact Sheriff Jerry Goodin at Scott County Sheriff's Office (812)752-8400.
All subjects are innocent until proven guilty in a court of law.