Scott County Sheriff's Deputies Arrest a Sex Offender who Failed to Register as Required
11/05/2022
Scott County Sheriff's Deputies Arrest a Sex Offender who Failed to Register as Required
Scott County-On 10-21-2022, Scott County Sheriffs' Deputies (Deputy Jessica Dickey and Chief Deputy Toby Deaton) went to a home in Austin, Indiana where an alleged unregistered sexual offender was residing. Indiana State Parole Officers further advised the offender, Scott N. Richardson, 34, of New Castle, Indiana was wanted by authorities for a parole violation, issued for non-compliance with their (State Parole) requirements. Upon arrival at the alleged Scott County address for Richardson, he was placed under arrest for the parole warrant and subsequently transported to the Scott County Jail for incarceration. Additionally, more charges have been sought against Richardson for his failure to register as a sexual offender upon moving to Scott County through the Scott County Prosecutors Office. Richardson remains incarcerated at the Scott County Jail.
NOTE: Richardson was in Scott County after moving to Scott County from another Indiana county recently. The Sheriff of Scott County requires deputies to verify the addresses and other required information of sex offenders residing in Scott County on a quarterly basis, which is three (3) times more often than required by state guidelines.
Assisting with this investigation were officers with the Indiana State Parole Division and case workers with the Indiana Division of Family and Children-Scott County Office.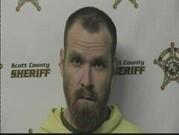 Scott N. Richardson
-30-
Dawson
Contact Sheriff Jerry Goodin at Scott County Sheriff's Office (812)752-8400.
All subjects are innocent until proven guilty in a court of law.