Scott County Sheriff's Deputies Arrest Drug Offenders after Investigation
11/05/2022
Scott County Sheriff's Deputies Arrest Drug Offenders after Drug Dealing Investigation Concludes and a Search Warrant is Executed.
NOTE: Another Example of Working Together with Other Local Agencies.
Scott County-On 11-03-2022, the Scott County Sheriff's Office Drug Enforcement Division executed a search warrant in the 700 block of Cedar Street in Scottsburg, Indiana. The search warrant was requested through the Scott County Circuit Court after an investigation culminated in probable cause to believe that drug dealing, and illegal drug possession were occurring at the residence. Upon executing the search warrant, assisted by the Scottsburg City Police and the Scott County Probation Department, deputies arrested Michael Ragland, 41, of Scottsburg, Indiana and Trenton Ragland, 21, of Scottsburg, Indiana, both taken into custody for various dealing and drug possession violations. Both were transported to and incarcerated at the Scott County Jail.
Michael Ragland was arrested for Dealing in Methamphetamine, Maintaining a Common Nuisance, and Illegal Possession of Paraphernalia.
Trenton Ragland was arrested for Maintaining a Common Nuisance and Illegal Possession of Paraphernalia.
Sheriff Goodin stressed his gratitude to deputies, the Scottsburg City Police Department, and the Scott County Probation Department for collectively bringing this drug investigation to a successful conclusion... "removing drug dealers from neighborhoods and bringing them before the courts is priority #1...we will not allow drug dealers to sale their poison in Scott County...together, we are making a difference".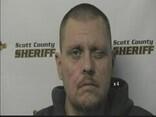 Michael Ragland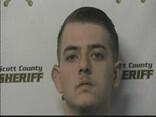 Trenton Ragland
NOTE: Not only are Deputies arresting the offenders on the street, but our Deputy Jailers are also offering services and classes to our inmates. These services and classes provide a path for our inmates to get clean while simultaneously receiving much-needed job skills training, their high school equivalency diploma, substance abuse treatment, spiritual involvement with numerous church groups, and association with peer support groups such as Thrive. We would be remiss to think we can do this alone. Our desire is to partner with all citizens of Scott County...if you have information to provide that would assist the Scott County Sheriff's Office in making our community safer, please call 812-752-5550. You can remain anonymous.
-30-
Dawson
Contact Sheriff Jerry Goodin at Scott County Sheriff's Office (812)752-8400.
All subjects are innocent until proven guilty in a court of law.