New Scott County Sheriff's Office App for Cell Phones
10/21/2022
New Scott County Sheriff's Office App for Cell Phones is Available NOW to Download for FREE!
NOTE: Another Community-Oriented Policing Tool for the Citizens to Stay 100% Informed.
Scott County-On 10-21-2022, Scott County Sheriff Jerry Goodin introduced a new informational technology (IT) Scott County Sheriff's Office Application (APP) for citizens to access "real-time information" from their cellular telephone. The APP was negotiated (at no additional cost) with a present IT provider currently providing IT capability to the Sheriff's Office. Sheriff Goodin stated the following... "I am grateful to the provider of this capability that brings current, at the moment information to the citizens of Scott County, all at no cost to them personally or their tax dollars". Attached below is the application upload instruction to follow...we at the Scott County Sheriff's Office hope you all find this newest capability useful for you and your family.
The Scott County Sheriff's Office Announces New
Smartphone App...
Please See Below!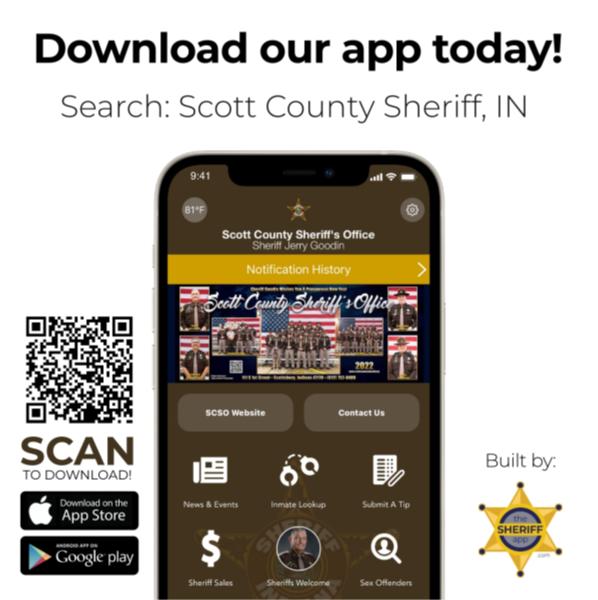 The Scott County Sheriff's Office app was developed by TheSheriffApp.com, a division
of OCV, LLC which specializes in mobile app development for sheriff's offices and public safety
organizations across the country. The app offers quick access to items of public interest and is
easy to use. In just a few clicks, users can access features such as:
Sheriff's Welcome
Sheriff Sales
Submit A Tip
Inmate Lookup
Jail Info
Sex Offenders
News & Events
Community Feedback
More!
"Over 80 percent of people in the United States own and use smartphones as their primary
means of communication," OCV Vice President Kevin Cummings said. "Mobile apps offer
agencies a better way to alert, inform and prepare the public. Apps allow public safety agencies
the ability to reach and serve their citizens where they are: their smartphones."
The Scott County Sheriff's Office app now is available for free download in the App Store and
Google Play by searching "Scott County Sheriff's Office".
-30-
Dawson
Contact Sheriff Jerry Goodin at Scott County Sheriff's Office (812) 752-8400.