The Integrated Re-Entry and Correctional Support Program
09/22/2022
THE INTEGRATED REENTRY AND CORRECTIONAL SUPPORT (IRACS) PROGRAM TEAM AND THE SCOTT COUNTY SHERIFFS' OFFICE WELCOME DISTINGUISHED VISITORS TO THE SCOTT COUNTY JAIL FOR THE IRACS "OPEN-HOUSE" and TOUR
Scott- On 9-22-2022, Scott County Sheriff Jerry Goodin and staff, along with Phil Stucky and Kelly Hans of THRIVE, who is the sponsor organization of the Integrated Reentry and Correctional Support (IRACS) program, welcomed numerous distinguished visitors to the Scott County Jail to witness the newly formed IRACS program in action. The IRACS program is new to Indiana, where inmate client support is started on day one of incarceration by accessing the inmate and seeking the root cause of their behavior that contributed to their confinement. The goal is to use the assessment, which is a 100% voluntary decision to participate by the inmate, to deliberately guide them on the most effective path for their future recovery and healing. The IRACS program is the newest program offered at the Scott County Jail to inmates, presented along with 8 other programs which focus on the inmate and the individual choice to make everyday matter as they seek redemption and healing. The primary goal is to return the inmate client to their family without the burden of baggage in tow, subsequently replacing that baggage with tools they can use in their newfound life. Visitors attending the open house and tour included the Executive Director for Drug Prevention Treatment and Enforcement of Indiana Doug Huntsinger, the Executive Director of Indiana Department of Mental Health and Addiction Services Becky Buhler, the Director of Indiana Addiction Issues Coalition Brandon George, Scott County Circuit Court Judge Jason Mount, Clark County Circuit Court Judge Brad Jacobs, City of Scottsburg Mayor Terry Amick, and many other notable guests. Sheriff Goodin provided the following comments prior to the tour..."Today, I am humbled by the support provided by all of you for this program and the other programs we offer the inmates under our care...without you, we wouldn't be able to accomplish much if anything. Saying "thank you" may seem cliché, but please accept my thanks and the thanks of many others to who you provide hope by ensuring resources are available to support this program and the many others".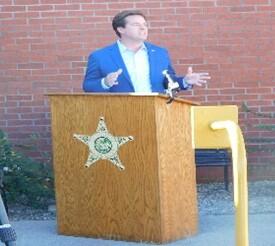 Executive Director Huntsinger
Sheriff Goodin and Guest witness IRACS Assessment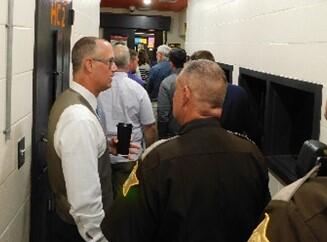 Sheriff Goodin and Clark Circuit Court Judge Jacobs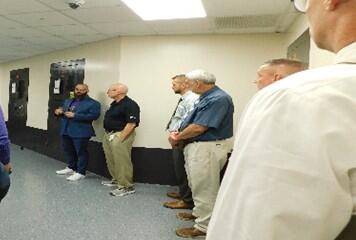 Executive Director of THRIVE (Phil Stucky) leading the tour
-30-
Dawson
Contact Sheriff Jerry Goodin at Scott County Sheriff's Office (812)752-5550.