Investigation results in Arrest of a Rockport, IN Resident
09/15/2022
Scott County Sheriff's Office Investigation results in the Arrest of a Rockport, Indiana Resident for Child Molesting and Other Criminal Offenses
Scott County-On 9-14-2022, Bobbie Jo Spencer, 37, of Rockport, Indiana was arrested by Spencer County Sheriff's Deputies after Detective First Sergeant Jacklyn Shofner of the Scott County Sheriff's Office concluded a lengthy investigation where Bobbie Jo Spencer was alleged to have sexually molested several children. Detective Shofner was made aware of the allegations made against Bobbie Jo Spencer and after locating her in Spencer County Indiana, she was able to interview Bobbie Jo Spencer and successfully corroborate the allegations made against her. The investigation was presented to the Scott County Prosecutors Office by Detective Shofner, with the assistance of the Scott County Department of Child Services (DCS). Upon review of those investigative findings, the Scott County Prosecutors Office imposed the following charges against Bobbie Jo Spencer;
IC 35-42-4-3(A)(1)FL1 ~ Child Molest-Intercourse or Deviate Sex with Victim Less than 14 - 2 Counts IC 35-42-4-3(A)FL3 ~ Child Molest - 3 Counts IC 35-45-2-1(B)FL6 ~ Intimidation- Threat is to Commit Forcible Felony - 4 Counts IC 35-49-3-3(A)FL6 ~ Dissemination of Matter Harmful to Minors - 1 Count IC 35-46-1-8(A)MA ~ Contributing to the Delinquency of a Minor - 1 Count IC 35-42-2-1(F)(5)(B)FL5 ~ Battery-Person less than 14 Committed by Person at Least 18 - 1 Count IC 35-42-2-9(FL6) ~ Strangulation - 1 Count
Assisting with this investigation was the Spencer County Sheriff's Office, the Scott County Department of Child Services, and the Scott County Indiana Prosecutors Office.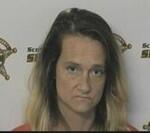 Bobbie Jo Spencer
-30-
Dawson
Contact Sheriff Jerry Goodin at Scott County Sheriff's Office (812)752-8400.
All subjects are innocent until proven guilty in a court of law.