Drug Arrest by Scott County Sheriff's Deputies while Serving Arrest Warrant
08/25/2022
Drug Arrest by Scott County Sheriff's Deputies while Serving an Arrest Warrant on Unrelated Charges
Scott County-On 8-24-2022, Deputy William Morris of the Scott County Sheriff's Office responded to an address on Reid Road in eastern Scott County to serve several arrest warrants. Upon arrival, Deputy Morris, along with Deputy Kacey Reschar made contact with the occupants of the home, one being the subject of the arrest warrant identified as Crystal Bohall-Righthouse, 44 of Lexington, Indiana. While inside the residence, deputies observed in plain view drug paraphernalia and suspected methamphetamine. A field test of the suspected methamphetamine tested positive for the substance, which Crystal Bohall-Righthouse informed deputies was hers. While transporting Righthouse to the Scott County Jail after placing her under arrest, Righthouse spontaneously informed Deputy Morris that she had additional methamphetamine concealed on her person, as well as Xanax Pills, all of which were seized from her by jail deputies during processing. Righthouse was charged with Possession of Methamphetamine, Illegal Possession of Paraphernalia, Maintaining a Common Nuisance, and she was also arrested on the outstanding warrants issued by Scott County Authorities.
Sheriff Goodin provided the following..."I am pleased when deputies go the extra mile in the effort to eradicate drugs from our community...this is a team effort, comprised of the Scott County Sheriff's Office and the citizens of Scott County. Together, we are making a difference".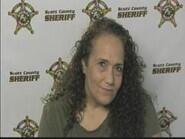 Crystal Bohall-Righthouse
-30-
Dawson
Contact Sheriff Jerry Goodin at Scott County Sheriff's Office (812)752-8400.
All subjects are innocent until proven guilty in a court of law.