Overnight Drug Arrest by Scott County Sheriff's Deputies Reveals Drug Transactions Record
08/19/2022
Overnight Drug Arrest by Scott County Sheriff's Deputies and the Subsequent Processing of Evidence Reveals Drug Transaction Records
Scott County-On 8-19-2022, a vehicle stop was conducted by Scott County Sheriff's Deputy First Sergeant Charlie Morgan and "K-9 Zeus" on State Roade 56 in Scott County, resulting in the arrest of Cierra Knieriem, 24 of Salem, Indiana. Knieriem was arrested for possessing and dealing in Methamphetamine and Cocaine as a result of the on-scene investigation. Furthermore, records were located in the vehicle listing various alleged illegal dealings where drugs were possibly sold in and around Scott County. Cierra Knieriem was transported to the Scott County Jail where she was incarcerated. In addition to possessing Methamphetamine and Cocaine, Knieriem was also charged with dealing in both substances, Maintaining a Common Nuisance, Operating a Vehicle while Intoxicated, and Operating a Vehicle while Intoxicated - Endangering.
Sheriff Goodin provided the following..."I am committed to eradicating Scott County from drugs and the damage they cause our citizens and our community collectively. The people whose names were on the transaction records can expect a visit from deputies in the near future. Again, I want to stress the following...the citizens of Scott County and the Scott County Sheriff's Office are in a partnership...this arrest sends a message to all outsiders who think they can sneak drugs and contraband into Scott County...YOU WILL GO TO JAIL! Together, we are making Scott County the safest place to live in America".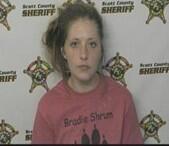 Cierra Knieriem
-30-
Dawson
Contact Sheriff Jerry Goodin at Scott County Sheriff's Office (812)752-8400.
All subjects are innocent until proven guilty in a court of law.