Traffic Stop by Scott County Deputy Leads to an Arrest of a local Drug Dealer
07/28/2022
Traffic Stop by Scott County Deputy Leads to an Arrest of a local Drug Dealer
and the Subsequent Arrest of Two (2) Additional Residents Involved in Drugs
Scott County-On 7-27-2022, Deputy Kacey Reschar of the Scott County Sheriffs' Office conducted a traffic stop in Austin for a traffic violation. Joined at the scene of the stop by Austin Police Department Officers, Deputy Reschar located approximately 34.6 grams of Methamphetamine, leading to the arrest of Christopher Helton, 34 of Paris Crossing, Indiana. Helton was charged with Dealing in Methamphetamine, Possession of Paraphernalia, Maintaining a Common Nuisance, Illegal Possession of a Syringe, and Resisting Law Enforcement. Helton was transported to the Scott County Jail where he remains incarcerated.
On 7-28-2022, Scott County Sheriffs' Deputies, Austin Police Officers, and the Scott County Probation Department conducted a probation check at a residence in Austin, Indiana. Arrested at the residence was Heather Stamper, 36 of Austin and Ashley Noble, 32 of Scottsburg. Both Stamper and Noble were charged with Possession of Methamphetamine. Additionally, Stamper was charged with Maintaining a Common Nuisance and Possession of Paraphernalia and Noble was charged with Visiting a Common Nuisance and Possession of Paraphernalia.
These arrests are a culmination of a month-long investigation into suspected criminal activity at a residence in Austin, Indiana. The investigation was started after a concerned citizen complaint was received by the Scott County Sheriffs' Office, another example of the community acting in concert with deputies as we all strive to make Scott County the safest county in America. Sheriff Goodin wishes to convey his thanks to that anonymous citizen who took the time to place the call...together, we are making a difference.
Christopher Helton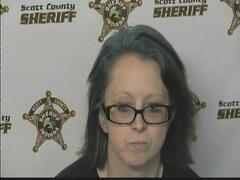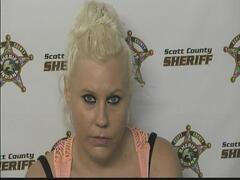 Heather Stamper Ashley Noble
-30-
Dawson
Contact Sheriff Jerry Goodin at Scott County Sheriff's Office (812)752-8400.
All subjects are innocent until proven guilty in a court of law.