Scott County Sheriff's Deputies Arrest Violent Sex Offender
06/22/2022
Scott County Sheriff's Deputies Arrest Violent Sex Offender from Kentucky for Failure to Register in Indiana
Scott County-On 6-21-2022, Scott County Sheriffs' Deputies went to a home in Scottsburg to serve a protective order that was issued by the court for a previous domestic situation. They were also looking for Granville Barrett, 38 of Scottsburg, who was reportedly hiding in the residence. After Granville Barrett was located and served with the protective order, Detective Lt. John Hartman of the Sheriffs' Office conducted a background check of Barrett, which revealed he was a violent sex offender from a jurisdiction in Kentucky. A follow up with Kentucky authorities revealed Granville Barrett had moved to the address in Scottsburg during the winter, requiring him to register at the Scott County Sheriffs' Office upon moving to the local area. Granville Barrett was placed under arrest for Failure to Register as a Sex Offender, a level 5 felony and furthermore transported to the Scott County Jail for incarceration. Sheriff Goodin advised the following concerning this arrest..."the Scott County Sheriffs' Office is made up of tireless deputies who will "go the long way around" if they feel something isn't adding up...this offender thought he could hide in plain sight but quickly found out otherwise...another job well done and a neighborhood is safer because of it". Assisting with this investigation was the Scott County Probation Department, who provided invaluable information that resulted in this successful apprehension.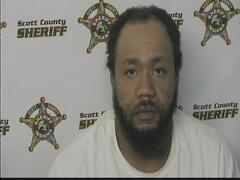 Granville Barrett
-30-
Dawson
Contact Sheriff Jerry Goodin at Scott County Sheriff's Office (812)752-8400.
All subjects are innocent until proven guilty in a court of law.