*******UPDATE ARREST MADE*******
05/10/2022
**Update-Arrest Made**
Crash Resulting in Death Remains under Investigation - Publics Help Sought
Scott County-On Today's date the Scott County Circuit Court issued an arrest warrant for Cheyenne Elizabeth Paige Taylor, 25 years old from Austin, IN for the charges of Reckless Homicide, Recklessly Kills Another Human Being, (Felony) False Informing, (Misdemeanor), and Reckless Driving, Driving at an Unreasonable High or Low Speed so to Endanger Safety, (Misdemeanor).
Cheyenne Elizabeth Paige Taylor was arrested by Scott County Sheriff's Deputies without incident at her residence after a lengthy car crash investigation that began back on January 24th, 2022, by Scott County Sheriff's Deputies, troopers from the Indiana State Police and the Scott County Prosecutor's Office. She was incarcerated at the Scott County Jail awaiting her first court appearance.
Below the photo of the arrested is a copy of the original news release explaining the Fatal Car Crash.
******************************************************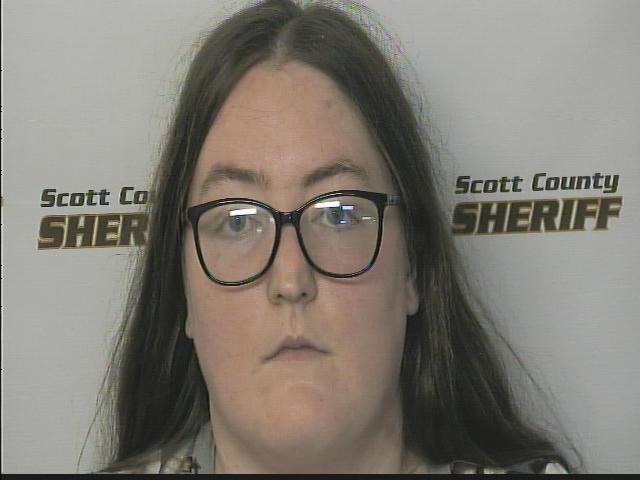 *************************************************
On January 24th at approximately 6:17am, Deputies were dispatched to State Road 256 near Bethlehem Road in north eastern Scott County reference a serious automobile crash that resulted in the death of a Jefferson County, Indiana resident. The continuing investigation, conducted by the Scott County Sheriff's Office and assisted by the Indiana State Police, revealed one of the vehicles involved in the head on crash was allegedly passing other vehicles prior to slamming head on into the vehicle driven by Karena Monroe, 51 of Lexington who was killed in the crash.
It is alleged Cheyenne Taylor, 24 of Scottsburg ran two cars off of the roadway prior to crashing into the deceased. Investigators are seeking help from the public in identifying the two alleged drivers who were ran off of the roadway by Taylor as she was passing other motorist prior to the crash.
If you have information regarding the identity of the two-motorist sought above, please call Scott County Sheriff's Office Captain Shawn Mayer or Detective Sergeant Jacklyn Shofner at 812-752-8400. Remember, you can remain anonymous.
-30-
Dawson/Goodin
***