Scott County Sheriff Recognizes a Hoosier Couple from Sheridan, IN
04/25/2022
Scott County Sheriff Recognizes a Hoosier Couple from Sheridan, Indiana as "Honorary Scott County Sheriff's Office Community Policing Partners"
Scott County-On 4-24-2022, Scott County Sheriff's Office Chief Deputy Toby Deaton was in somewhat of "a pickle". Chief Deputy Deaton was dispatched to the area of State Road 56 and Graw Road in western Scott County reference a tree across the highway. Upon arrival, Chief Deaton immediately called for assistance from the Indiana Department of Transportation (INDOT) for the tree which had fallen and completely covered the east bound lane of State Road 56. This area is extremely dangerous due to the limited visibility experienced by motorist in both directions from the hills and valleys where the roadway lies. Upon notification, INDOT advised they would respond within two (2) hours to the scene, creating a major concern to an already bad situation...in steps David Dean and his wife from Sheridan, Indiana who were in the area working on a campsite they own. Mr. Dean was able to secure his chainsaw and with the help of his wife, the roadway was back open within a short time, all in the spirit of helping others when the opportunity arises. Sheriff Goodin stated the following..."Community policing comes in all shapes, sizes, and possibilities as demonstrated by the Dean Family from Sheridan...we want to thank them for their spirit of service to our community by lending a hand to Chief Deputy Deaton in reopening this busy roadway".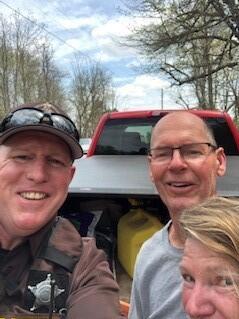 Dean Family "tree removal" Deputy Deaton with "Team Dean"
-30-
Dawson