UPDATE: ARRESTED AND BOOKED-Wanted on Warrant Wednesday
04/14/2022
Wanted on Warrant Wednesday
UPDATE: ARRESTED and BOOKED into the Scott County Jail
Scott-The Scott County Sheriff's Office partnering with WMPI Radio, 105.3 FM on "Wanted on Warrant Wednesday" successfully provided "the citizen Deputies" the information needed that resulted in the arrest of Brittany Nicole Langdon. A tip from a citizen was received by Scott County Sheriff's Office Chief of Internal Operations Patti Combs that Brittany Nicole Langdon would be in Scottsburg at a specific time and place. Operations Leader Combs provided the details to Deputies and within minutes, Deputy Josh Juliot located and arrested Brittany Nicole Langdon, transporting her to the Scott County Jail without incident. Sheriff Goodin relayed the following about this arrest..."Ms. Langdon has been wanted on Felony warrants since she committed these crimes in 2015...I would like to personally thank WMPI 105.3 radio for their partnership and the "citizen Deputy" who called in this tip that led to the capture of Ms. Langdon. My hope for her now is that she is able to account for her prior bad decisions while looking forward to a future of prosperity and good deeds".
NOTE: Not only are Deputies arresting the offenders on the street, our Deputy Jailers are then offering services and classes to these offenders. These services and classes provide a path for our inmates to get clean while simultaneously receiving much needed job skills training, a high school equivalency diploma, substance abuse treatment for those suffering with addiction, spiritual involvement with numerous church groups and an association with peer support groups such as Thrive. The Scott County Sheriff's Office seeks to partner with all citizens of Scott County in this effort. If you have information to provide that would assist the Scott County Sheriff's Office making our community safer, please call 812-752-5550. You can remain anonymous...together, we are making a huge difference.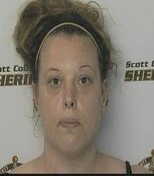 2015 PHOTO 2022 PHOTO
-30-
Dawson
Contact Sheriff Jerry Goodin at Scott County Sheriff's Office (812)752-5550.
All suspects are innocent until proven guilty in a court of law.