UPDATE-CASE SOLVED and ARREST MADE
04/13/2022
UPDATE - CASE SOLVED and ARREST MADE
Scott County Sheriff Wishes to Thank the Citizens and the Tenacious Employees of the Scott County Sheriff's Office in Locating this now "Identified Burglar"
Scott County-On 4-12-2022, Korey Davis, 26 of Ellettsville, Indiana was booked into the Scott County Jail after being arrested on a warrant for the December 2021 burglary and theft of property from the local Pioneer Village Business in northern Scott County. Detective Lieutenant John Hartman of the Sheriff's Office was able to request and subsequently receive an arrest warrant through the Scott County Prosecutors Office for Korey Davis after a video was shared multiple times through social media streams. The video was enhanced by Scott County Information Technology Technician Andrew Campbell, who in turn provided the video to Sheriff's Office Operations Chief Patti Combs which she "aired" across multiple social media formats. After several months of strategically airing the video across social media, several tips were received from the public which Detective Lieutenant Hartman tenaciously ran to ground, eventually making a positive identification of Korey Davis as the perpetrator of this crime. Sheriff Goodin stated the following..."This case drives home the Community Policing Methodology Scott County was recently recognized for by Kentuckiana Crime Stoppers...the relationship we have developed with our community is a model for the entire country to follow. I am extremely proud of my staff and of my fellow citizens who are "Deputies in disguise"...together, we are making a difference"!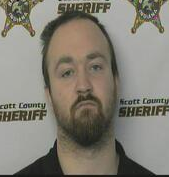 -30-
Dawson
Contact Sheriff Jerry Goodin at Scott County Sheriff's Office (812)752-8400.
All subjects are innocent until proven guilty in a court of law.