Serveral Police Agencies Working Together Results in Huge Bust
04/08/2022
Several Police Agencies Working Together Results in Huge Bust Netting Drugs, Guns, US Currency, and Suspected Stolen Property
(Other Arrest Also Listed)
Scott County-On 4-6-2022, a three county Sheriff's Office drug investigation resulted in four more drug offenders taken off the street. Scott County Detective/Lieutenant John Hartman was the lead detective for this operation, working alongside Deputies from the Jefferson and Jennings County Sheriff's Offices and Hanover Police respectively. The month-long investigation culminated in an arrest warrant for Jonathan Levi Evans, 34 of Lexington, Indiana (Scott County) and search warrants for two addresses. One of the addresses was on Polk Road in Jefferson County where Christopher Alan Caudle, 42 and Tera Lee Smith, 41 were residing and Jacob Edward Robinson, 26, from Jefferson County was visiting. While serving this search warrant in Jefferson County, drugs, guns, and suspected stolen property was confiscated by Deputies. Another search warrant conducted shortly after this search warrant was in Scott County on Crothersville Road resulting in Jonathan Levi Evans being arrested on an arrest warrant and a small amount of controlled substances being located.
The following was seized during the execution of the search warrants;
$880 in US currency
4.5 ounces of Methamphetamine
33 grams of Marijuana
Two (2) Handguns with Ammunition
Various items of suspected stolen property from the Jefferson County search warrant location were seized and secured by Jefferson County Sheriff's Deputies.
Christopher Alan Caudle was charged with Manufacturing/Dealing in Methamphetamine, Possession of Methamphetamine, Maintaining a Common Nuisance, and Possession of Marijuana. (Incarcerated in the Jefferson County Jail)
Jacob Edward Robinson was charged with Visiting a Common Nuisance. (Incarcerated in the Jefferson County Jail)
Tera Lee Smith was charged with two (2) counts of Possession of a Legend Drug or Precursor, Visiting a Common Nuisance - Controlled Substances, and Possession of Marijuana. (Incarcerated in the Jefferson County Jail)
Jonathan Levi Evans was charged with Possession of Methamphetamine, Visiting a Common Nuisance, and Wanted on a Warrant for Escape.
Sheriff Goodin relayed the following about this investigation..."This is a major bust and I want to continue to send the message to drug dealers that if you are selling drugs that are coming to Scott County, we will cross a county line to work with other agencies to get you stopped and brought to justice. It also shows again the teamwork the Scott County Sheriff's Office has developed with other agencies". Sheriff Goodin again wants to thank the Jefferson County Sheriff's Office, Jennings County Sheriff's Office, Hanover Police Department, Scott County Community Corrections, Scott County Prosecutor's Office, and the Jefferson County Prosecutor's Office who all were directly involved or assisted with this investigation.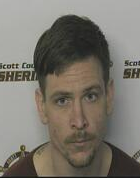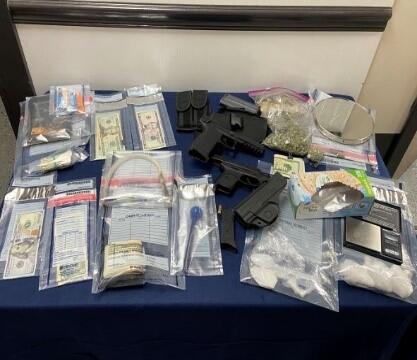 (Other Arrest)
Also on 4-6-2022, an arrest warrant for Ashley Richards, 32 of Lexington, Indiana was served by Scott County Sheriff's Deputy Joshua Hammond. The warrant was for Dealing in Methamphetamine at Least 10 Grams/less than 28 Grams. As Deputy Hammond was placing Ashley Richards under arrest, he located Methamphetamine, Cocaine, and Drug Paraphernalia concealed on Richard's person. Deputy Hammond charged Richards with the additional drug violations of Possession of Methamphetamine, Possession of Cocaine, Maintaining a Common Nuisance, and Possession of Paraphernalia.

NOTE: Not only are Deputies arresting the offenders on the street, our Deputy Jailers are then offering services and classes to these offenders. These services and classes provide a path for our inmates to get clean while simultaneously receiving much needed job skills training, a high school equivalency diploma, substance abuse treatment for those suffering with addiction, spiritual involvement with numerous church groups and an association with peer support groups such as Thrive. The Scott County Sheriff's Office seeks to partner with all citizens of Scott County in this effort. If you have information to provide that would assist the Scott County Sheriff's Office making our community safer, please call 812-752-5550. You can remain anonymous...together, we are making a huge difference.
-30-
Dawson
Contact Sheriff Jerry Goodin at Scott County Sheriff's Office (812)752-8400.
All subjects are innocent until proven guilty in a court of law.