Scott County Sheriff's Office Receives Outstanding Service Award
03/02/2022
Scott County Sheriff's Office Receives Outstanding Service Award from the Court Appointed Special Advocates for Children (CASA) Scott County Office
Scott County-On 2-28-2022, Scott County Sheriff Jerry Goodin accepted "an outstanding service award" on behalf of the Scott County Sheriff's Office from the Court Appointed Special Advocates for Children (CASA) of Scott County. Kelly Shelhamer, Executive Director of CASA, thanked Sheriff Goodin for providing much needed support to CASA during 2021, from ensuring the grass was cut while also providing assistance when needed for repairs to the facility. Sheriff Goodin stated the following..."I am humbled to represent the Sheriff's Office Team by accepting this award on their behalf...as the Sheriff, it makes me extremely proud to be able to assist such a great agency, where as part of our community oriented policing effort, Jail Deputies and inmates alike passionately work together to help where they can, when they can. I whole heartedly support every public assistance detail our deputies and inmate clients are involved in...giving back is what it's all about".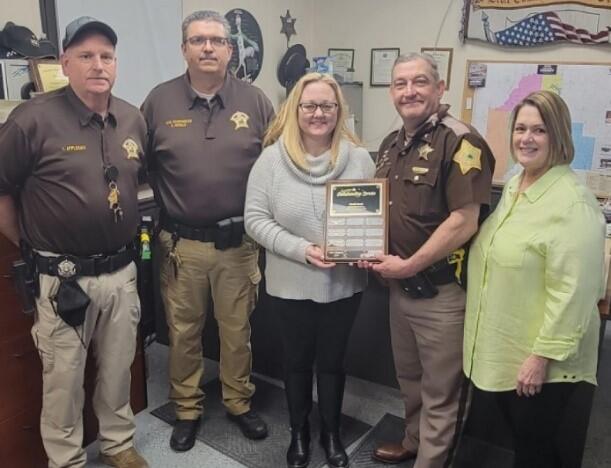 (Photo left to right) - Jail Deputy Tim Applegate, Jail Commander Doug Herald, Ms. Shelhamer, Sheriff Goodin, and CASA
Administrative Assistant and Staff Advocate Paula Kern).
-30-
Dawson