Scott County Sheriff's Office Request the Community's Assistance
01/05/2022
Scott County Sheriff's Office Request the Community's Assistance with a Hit and Run Crash resulting in a Pedestrian Seriously Injured
Scott-On January 1 2022, Deputies responded to the Scott Memorial Hospital in reference to a pedestrian who was struck by a vehicle on Highway 256 near Johnson Elementary School. Video surveillance collected from several locations near the scene revealed the incident occurred at approximately 7:30pm. The video surveillance further showed several vehicles stopping in the area around that time frame.
Deputies collected a black in color passenger side mirror, possibly belonging to a Ford vehicle. The vehicle in question likely has front end damage, specifically to the hood and possibly windshield. Additionally, the vehicle is missing the side mirror as described above.
The Scott County Sheriff's Office is requesting if anyone has any information, stopped during the incident, or was a witness to the hit and run crash, please contact or email Detective Sergeant Jacklyn Shofner. Moreover, if you were involved in a crash in the area on the night in question and you thought you may have struck an animal, please contact Detective Shofner as well. She can be reached at jcolwell@scottcountysheriff.org or at 812-752-8400. Remember, you can remain anonymous.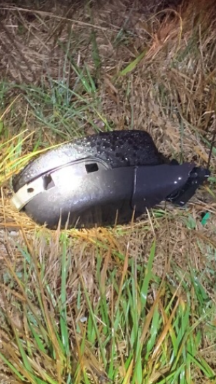 -30-
Shofner
Contact Sheriff Jerry Goodin at Scott County Sheriff's Office (812)752-8400