Shop with the Sheriff program
11/22/2021
Scott Counties' Christmas Program "Shop with the Sheriff"
Prepares for its Third Year
(Donation Boxes are at Business's throughout Scott County)
Scott County-In 2019, the Scott County Sheriff's Office started "Shop with the Sheriff", benefiting less fortunate families and children. This is obviously a spin-off of Shop with a Cop due to Scott County not having the Shop with a Cop program.
In 2019, the sheriff's office was able to take 26 children, (chosen by our local schools), shopping for clothes, toys, and necessities. We also provided a pizza party with Santa for the children.
Last year, 2020, we were able to take on 50 children! WE DOUBLED!!! Plus, we took on an additional family at the last minute that had some dire needs. We were able to provide full meals, clothes, and toys for each of these children. We still want to do more! We want to double if not triple the numbers again! The more the merrier.
We are currently raising funds for "Shop with the Sheriff 2021" that will hopefully bring joy and happiness to our Scott County kids. That is why we are asking for your help. With your donation, together we could make an incredible difference. We are trying to raise $15,000. This will give us $250 per child to buy necessities as well as some toys.
100% of all money collected will be used for the children.
We have placed money donation boxes across Scott County in businesses. We have attached a photo of these boxes to this release so you will know it is legitimate. We also have a link to the Go Fund Me Page attached to this news release for you to click on where everyone can give electronically no matter where you live. The link is https://www.gofundme.com/f/shop-with-the-sheriff
If you would like to help by dropping the donations off in person at the Scott County Jail, please feel free to stop by. If you have questions, reach out to us at (812)752-8400 and ask for Patti, Kim, or Amy.
Photo of donation box is attached.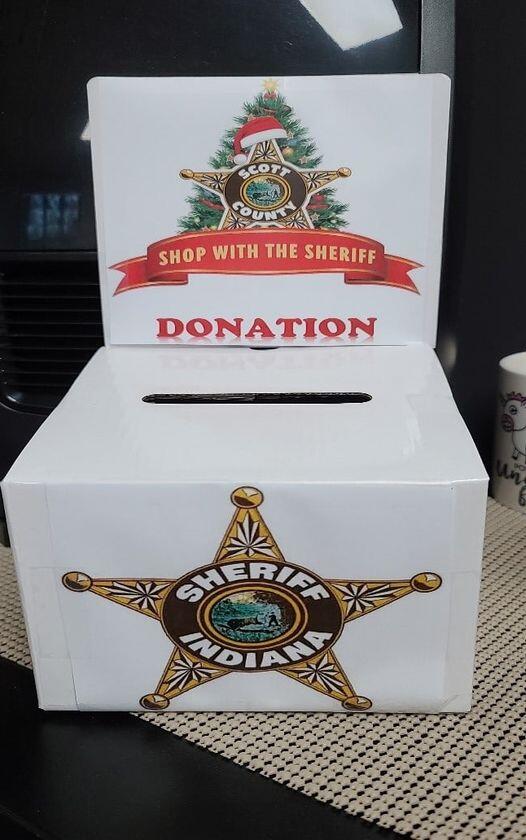 Thank you for helping us make a difference!
Sheriff Jerry Goodin
Scott County Sheriff's Office
-30-
Goodin