Tattered Flag Deposit Box
11/16/2021
Tattered Flag Deposit Box
(Frequently Asked Question, what do I do with a Damaged or Worn-Out Flag?)
Scott County- One of the most frequently asked questions is what to do with a United States Flag, Prisoner of War Flag or Indiana State Flag, that is damaged or worn out. The Scott County Sheriff's Office has mounted a "Tattered Flag Deposit Box" on the corner of First Street and Wardell Street, (Northwest Corner of the Jail property).
The Tattered Flag Deposit Box is for citizens to bring their worn out or tattered United States, Prisoner of War, or Indiana State Flags to be deposited and retired properly. The flags will be given to the Veterans Affairs Office in Scott County who will then give them to the local veteran's organizations to be disposed of/retired properly.
The Tattered Flag Deposit Box is the idea of Scott County Deputy Josh Hammond. Sheriff Goodin stated "our patriotism can never be shown enough as the exterior of the Scott County Jail has been recently re-decorated by Indiana State and United States Flags." "This flag deposit box is just another way to honor our great country our U. S. Flag and state flag by retiring them the proper way.
The Scott County Sheriff's Office has also created a designated parking spot for the counties' Disabled Veterans Transport Van. This is to honor our Veterans also. (Photo Attached)
Photos are attached.
Photo with Tattered Flag Box left to right-Roger Oliver, Veteran; Tom Richey, (Veteran's Affairs Office); Sheriff Jerry Goodin; Scottsburg Police Chief, Scott Zellers; Back left to right-Deputy Josh Hammond; Fred Riley, (Veterans of Foreign Wars); Denise Vaughn, (Veteran's Affairs Office); Chief Deputy Toby Deaton; Jail Commander Doug Herald.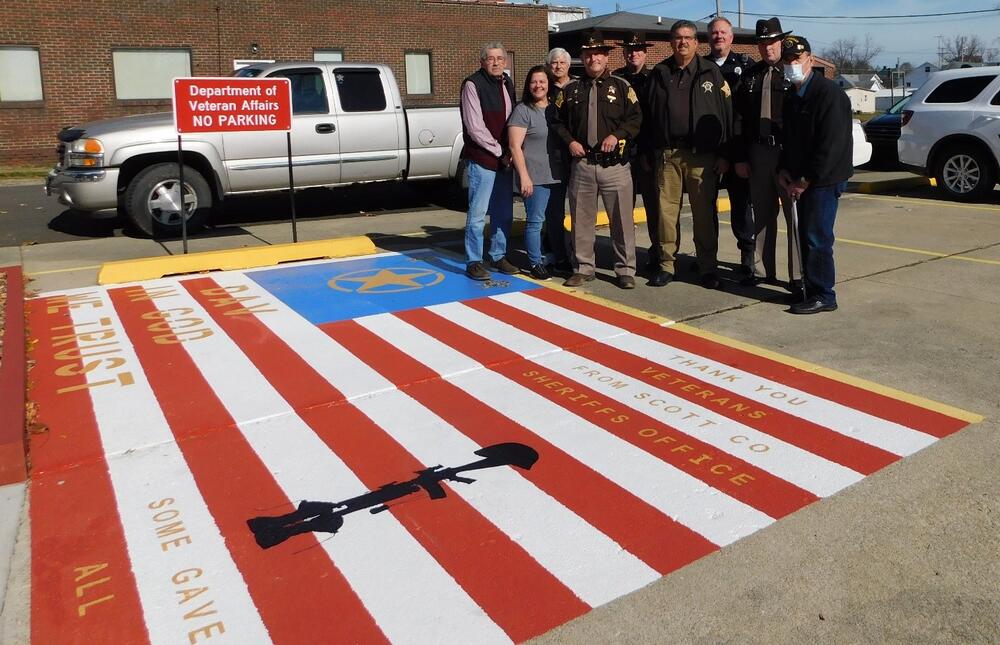 The Tattered Flag Box was decorated by Watson's Signs and mounted by Scott County Inmates. The parking spot was painted by the Scott County Inmates. No tax monies were used.
-30-
Goodin