Encounter with Karma lands two in jail for Drugs
09/22/2021
Encounter with Karma Lands Two in Jail for Drugs
Scott County-Late Monday night, First Sergeant Charlie Morgan of the Scott County Sheriff's Office along with K9 Karma stopped a blue Pontiac G6 for a registration violation. The stop was on Bond Street and U.S. 31 in Austin. During the traffic stop F/Sgt. Morgan deployed K9 Karma to do a free air sniff around the vehicle. Karma alerted on the car and alleged Heroin was located in the console area of the car.
As a result of the stop, Anna Smith, 25, of Austin, IN and Michael Barger, 48, of Crothersville, IN were both arrested for the same charges of POSSESSION OF COCAINE OR SCHEDULE I OR II NARCOTIC DRUG and MAINTAINING A COMMON NUISANCE. Both were incarcerated at the Scott County Jail.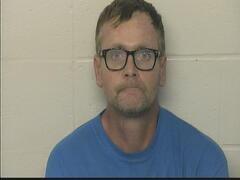 Photos of the arrested are attached.
-30-
Goodin
Contact Sheriff Jerry Goodin at Scott County Sheriff's Office (812)752-8400
All suspects are innocent until proven guilty in a court of law.