Domestic Incident turns into Search and Arrest
05/13/2021
Scott County Sheriff's Office
Sheriff Jerry Goodin
News Release
111 South First Street
Scottsburg, Indiana 47170
Date: 5/13/21
Immediate Release:
Domestic Incident turns into Search and Arrest
Scott County-On May 12, 2021, Deputies with the Scott County Sheriff's Office responded to Birch Tree Lane in Scottsburg in reference to an alleged domestic dispute. One of the individuals involved identified as Stephen McManus, age 29, of Madison, Indiana, was allegedly at a residence without the homeowner's consent. Upon arrival, deputies discovered McManus's vehicle was near the residence with the homeowner's dog inside of the vehicle. McManus had allegedly taken the homeowner's dog and a firearm from the residence. Further investigation revealed McManus was on parole with the Indiana Department of Correction.
A search for McManus in the nearby area began with witnesses advising they observed McManus run towards a wooded area near the residence. McManus was located at a gas station in Scottsburg. He was arrested and transported to the Scott County Jail. McManus was arrested for Residential Entry, Resisting Law Enforcement, Criminal Trespass, and a Parole Hold.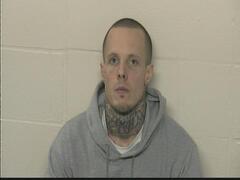 -30-
Shofner
Contact Sheriff Jerry Goodin at Scott County Sheriff's Office (812)752-8400
All suspects are innocent until proven guilty in a court of law.