MPORTANT SCOTT COUNTY TAXPAYER NEWS The Scott County Jail Passes Indiana State Jail Inspection for Second Year in a Row, this Year with "Accolades"
03/05/2021
Scott County Sheriff's Office
Sheriff Jerry Goodin
News Release
111 South First Street Date 03/05/2021
Scottsburg, Indiana 47170
Immediate Release:
IMPORTANT SCOTT COUNTY TAXPAYER NEWS
The Scott County Jail Passes Indiana State Jail Inspection for Second Year in a Row, this Year with "Accolades"
Scott County-Yesterday, Indiana State Jail Inspector Jeff Groh, visited the Scott County Jail to do the annual rigorous and tedious Jail Inspection. Every year every county jail in Indiana has to stand inspection to make sure it meets the standards set out by Indiana State and Federal Law. This inspection also effects the price Scott County pays for insuring the jail facility.
After the inspection was completed yesterday, Jail Inspector Jeff Groh gave the Scott County Jail a passing inspection and a glowing review. He even went on to give the Scott County Jail and its staff accolades, stating "when I do other jail inspections throughout the state of Indiana, the Scott County Jail will be the jail I reference as the county jail facility for everyone to model after. He went on to praise the jails cleanliness, operations and programs offered to the inmates.
Sheriff Goodin was obviously very pleased and honored. He praised the efforts of his jail staff and inmates who keep the jail in pristine shape. Sheriff Goodin happily stated, "We not only passed this inspection, we blew it out of the water." The Scott County Jail is the most expensive building to maintain and insure for county taxpayers. It is also the highest liability for Scott County. With this passing inspection and accolades the Scott County Commissioners and County Council can negotiate insurance rates to help out county taxpayers. It will also be a tool Sheriff Goodin can use when applying for state and federal grants.
In closing, Sheriff Goodin stated, "I wish the citizens of Scott County could tour our jail facility; it is impossible to describe how clean and disciplined the jail is. " "I really believe our citizens would be as impressed as the State Jail Inspector was."
PHOTO ATTACHED: Left to Right; Chief-Toby Deaton, Sheriff-Jerry Goodin, State Jail Inspector- Jeff Groh, Jail Commander- Doug Herald, County Building Maintenance Supervisor -Josh Colwell.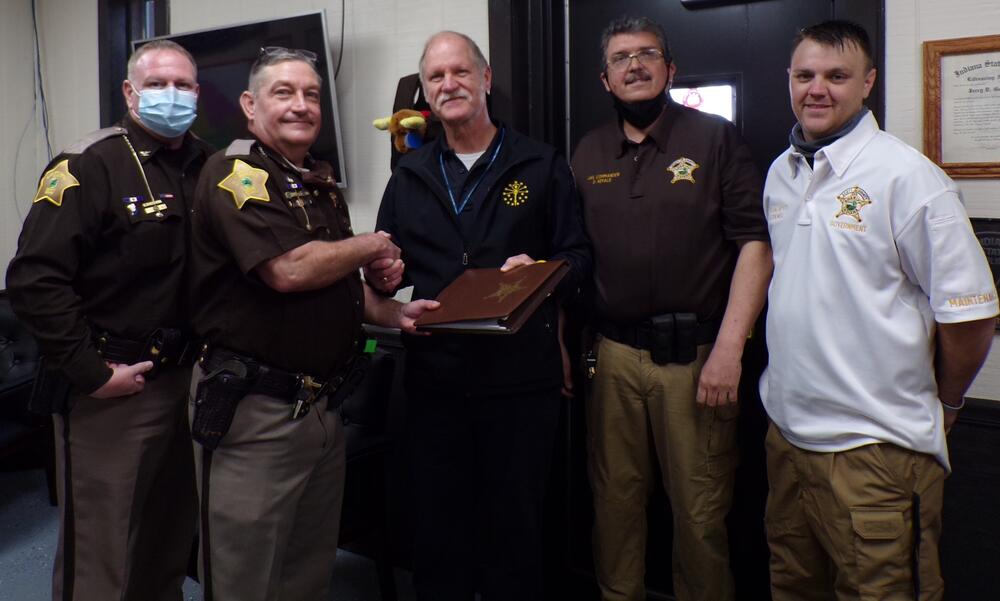 -30-
Johnson/Goodin
Contact Sheriff Jerry Goodin at Scott County Sheriff's Office (812)752-8400