Scott County Sheriff's Office Makes Another Drug Dealing Arrest
04/04/2019
Scott County Sheriff's Office
Sheriff Jerry Goodin
News Release
111 South First Street Date 04/04/2019
Scottsburg, Indiana 47170
Immediate Release
Scott County Sheriff's Office Makes Another Drug Dealing Arrest
Scott County-On April 3, 2019 detectives and deputies with the Scott County Sheriff's Office and the Indiana State Police went to a residence for an ongoing investigation. After arriving, a search of the residence was conducted. After completing the search Heather Rigsby, 45, of Scottsburg was arrested for Dealing in Methamphetamine and incarcerated at the Scott County Jail.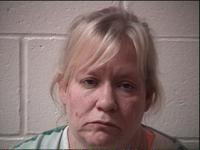 -30-
Johnson
Contact Sheriff Jerry Goodin at Scott County Sheriff's Office (812)752-8400
All suspects are innocent until proven guilty in a court of law.