Show of Support for Local Law Enforcement Appreciated by Deputies
09/06/2023
Show of Support for Local Law Enforcement Appreciated by Deputies of the Scott County Sheriff's Office
(This is a two (2) part News Release)
Scott County-On 9-1-2023, Brandy Royalty and Brandy D'Angelo from the Hampton Oaks Health Campus paid a visit to the Scott County Sheriff's Office, delivering specially prepared box lunches for deputies and personnel. Later in the evening, more box lunches were delivered for the evening shift personnel to enjoy. The lunches were much appreciated by Sheriff Goodin and the staff of the Sheriff's Office.
Part 2 of the News Release-On 9-6-2023, Sheriff Goodin and deputies presented a plaque on behalf of the Indiana Sheriff's Association to Thomas Chrisos, Vice President of Fewell Enterprises Incorporated of Scottsburg, Indiana. The Indiana Sheriff's Association recognized Fewell Enterprises for their support of the Indiana Sheriff's Association and their county sheriff for becoming a corporate member of the Indiana Sheriffs' Association. The support enables the Sheriff's Association to provide the needed educational and training programs for law enforcement personnel across the State of Indiana. Additionally, corporate membership directly contributes to the annual Sheriff's Youth Leadership Camp for teenagers and provides college scholarships to many deserving students wishing to pursue a career in law enforcement.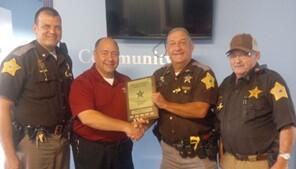 NOTE: The Scott County Sheriff's Office is blessed to have the support of Scott County Community Leaders and citizens alike as we relentlessly work at making Scott County the safest county in America to live and raise a family.
If you have information to provide that would assist the Scott County Sheriff's Office in making our community safer, please call 812-752-5550. You can remain anonymous...together, we are making a difference.
-30-
Dawson
Contact Sheriff Jerry Goodin at Scott County Sheriff's Office (812)752-8400. All subjects are innocent until proven guilty in a court of law.