Another Graduation of Inmate Students at Scott Co. Jail
08/11/2023
Another Graduation of Inmate Students at the Scott County Jail - Once Again, the Scott County Jail Sets the Standard for the Rest of the State!
Scott County-On August 4th, the Scott County Jail was blessed to once again supported and bore witness to a group of inmate students who graduated from a course designed to help them gain employment when released from custody. This adult education course, a pre-apprenticeship construction class, was formed by a partnership between River Valley Resources (RVR, the adult education partner of the Scott County Jail), the Indiana, Kentucky, and Ohio Regional Council of Carpenters (IKORCC), and Ivy Tech Community College. The course was held entirely within the walls of the Scott County Jail, utilizing no additional resources...in other words, the course didn't cost Scott County taxpayers one cent, which we at the Sheriff's Office take great pride in. The partnership between the SCSO and RVR makes all these successes a reality, where we can provide opportunities for our inmates that they may have never had in their lifetimes. Sheriff Goodin stressed the following... "I am extremely thankful to all the partners we have at the Scott County Sheriff's Office. These program partners and their programs are what are helping us slam the revolving door shut, with recidivism rates dropping dramatically every year since I have been in office. Our jail leads the way to recovery in the State of Indiana... long-established standards are not what we follow...consistent process improvement efforts by jail staff and our program partners result in the Scott County Jail setting new standards for others to follow and emulate. Ms. Carey Bowling, our go-to RVR Adult Based Education Instructor, has constantly been one of the biggest champions of providing these courses within the jail...we are blessed to have her as a partner, and we hope to have many more graduations in the future". The graduation culminated with a group photo including the graduates, Scott County Sheriff Jerry Goodin, Jail Commander Doug Herald, and RVR Adult Based Education Instructors, Charles Stucker and Carey Bowling.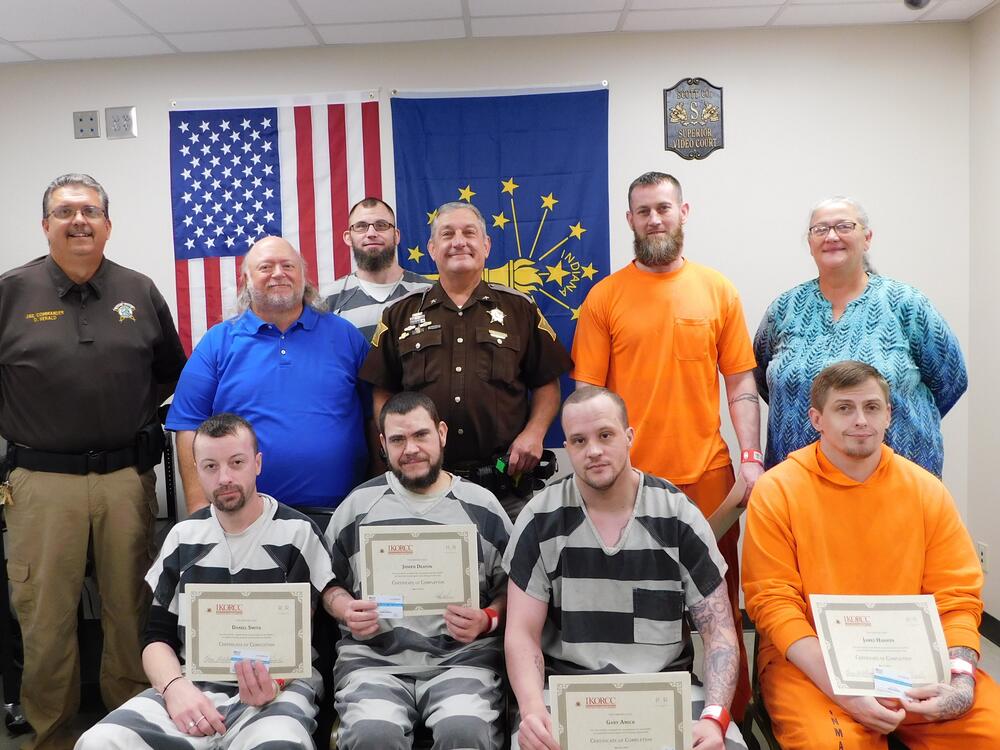 -30-
Dawson
Contact Sheriff Jerry Goodin at Scott County Sheriff's Office (812)752-8400.