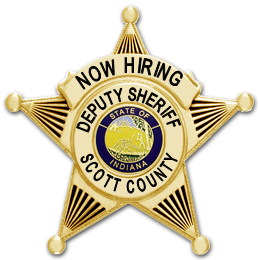 JOB POSTING
SCOTT COUNTY SHERIFF'S DEPARTMENT
DEPUTY SHERIFF
POSITION: Sheriff Deputy Full Time
WORK SCHEDULE: (Varies / 24 Hour Public Service Operation)
QUALIFICATIONS:
21 years of age; Ability to complete required Indiana Law Enforcement Academy training
and other required training as needed; Possession of a valid Indiana Driver's License and be in
good standing with the Indiana Bureau of Motor Vehicles.
APPLICATION PROCESS:
Candidates can obtain a Scott County Employment Application and hiring process from the Scott County Auditor's Office beginning Monday, November 13, 2017 through Monday, November 27, 2017 between the hours of 8:30 am to 4:30 pm (M-F). The Application must be submitted to the Auditor's office by 4:30 pm on November 27, 2017.
Hiring Process
Basic Written Skills Test: After a review of applications, applicants will be contacted by phone or mail for a written basic skills test. Indiana Law Enforcement Academy Graduates will not be required to take the basic written skills test.
Scott County, Indiana is an Equal Opportunity Employer and does not discriminate on the basis of race, color, gender, national origin, religion, age, or disability or any other characteristic protected by law.